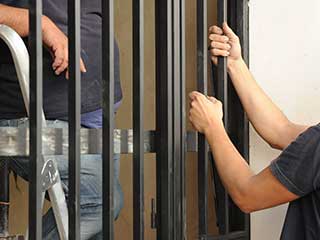 Installing an automatic gate isn't just an easy way to control who gets in and out your residential or commercial property. It's the first thing visitors see when they arrive, and it's also the first line of security against intruders. Therefore, it needs to work perfectly each and every time you use it. When the quality of the materials used is high, and the installation is done correctly, you can rest assured that the chance of accidents and problems will be absolutely minimized.
Deciding On a Type
Our team will guide you through the entire process of choosing the perfect new system for your home. The first decision you'll need to make is which type of mechanism you'll be looking for. Do you want an elegant swing gate to welcome visitors in with a flourish? Or perhaps it's more important to save space and a sliding gate is a better choice. Our experts will run through all the options available to you and ensure that you find the most suitable type for your property and for your needs.
Which Style Suits You?
Apart from providing great functionality, your new driveway gate needs to enhance the curb appeal of your home or business - this is the first part of your property that visitors will notice, so it's important to consider what design style is right for you. This could be anything from wrought iron to your own custom wooden gate design – our team can work with you to find something that perfectly matches your property's existing design.
The Motor Unit
Once you've found the right frame and panel material, and the best type of system for your needs, you'll need to choose the motor unit to go with it. The opener is the device that automates the movement of the system, and it needs to be made by a top tier brand. Our team can supply units from top manufacturers like Eagle, Ramset and Doorking so you can rest assured you'll find the best unit for your needs when you consult with us. Once you found the right electric gate opener to suit your needs, our experts will proceed with the installation process. Count on us to ensure that all of the mechanism's different features and parts are fully functional to ensure the system will work reliably from day one.
Don't Wait For A New Automatic Gate
There's no need to delay the search for the perfect new security system for your home or business. No matter what you have in mind, our team at Gate Repair Ramona is ready and waiting to help you find it. Get in touch with us today to see what our experts can do for you.
Need more? We also provide:

Allstar Remote

Aiphone Gate Intercoms

Solid Sliding Gates

Security Gate Repair