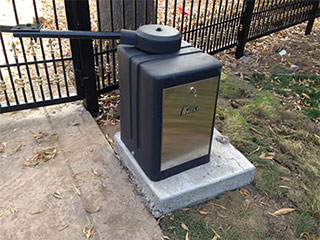 All automatic gate systems need a strong, reliable opener in order to function correctly. Different models use different types of drive systems, and will be suitable for different types of gates. However, they can all develop a wide range of problems, from internal wiring issues to physical damage and circuit board glitches. Our technicians have worked with all makes and models over the years, so our team is always able to provide a quick, effective solution when a problem arises.
Finding and Fixing Faults
It can often be hard to identify the root cause of a malfunction. This is because electric gate openers are complex machines, with many interconnected components. Faults with the safety sensors, drive gears and circuit boards can all present different issues. The opener may refuse to run, or behave erratically, opening and closing the gate at random. Naturally, these can be very dangerous issues, and your gate can end up damaging a car, or hurting a person. Fixing the problem quickly is therefore imperative, but expert skill and experience are required to do so safely. Whatever the cause, rest assured that our experts will be able to solve the problem without any difficulties.
Choosing Your New Gate Opener
Besides ensuring that your system works correctly, our technicians also provide installation services for new motor units. Choosing the right model for your gate is essential, because there are many different options to pick from. Our experts will ensure you get the right type of opener for your gate, and will guide you through the many brands available to choose from, like Eagle, Doorking, Elite, and many more.
Schedule a Service Appointment Today
A fault-free and reliable gate opener is an essential part of keeping your property safe and secure. If you need urgent assistance, or to have a completely new unit installed, don't hesitate to contact Gate Repair Ramona today.
We also offer the following:

Linear Gate Intercoms

Gate Opener Keypads

Parking Garage Gates

Hinge Welding Repair