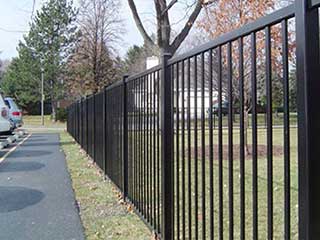 Gated communities and car parks make it easier to keep people from getting in without permission. Most people don't mind paying a little extra for this luxury as long as they don't have trouble getting out afterward. However, automatic systems designed for commercial purposes are in use for much of the day and this can lead to the integrity of the gate being compromised. When something goes wrong you need to get it fixed fast. Count on our technicians will get to your premises in the shortest time possible, and take care of any repairs you may require.
Gate Misalignment Issues
A swing gate that sees a lot of use can very easily become misaligned. It could be from being used dozens of times per day for a long period of time, but it could also happen because someone or something accidentally hit it and caused physical damage to some of the hardware parts. When a gate is out of alignment it won't open or close smoothly or evenly, and the damage can affect other areas as well. Our technicians have the skills and equipment to get your system back into proper alignment in little to no time at all.
Is Your Intercom System Working?
The phone entry system many automatic gates boast is an integral part of day to day life, especially for commercial establishments that see a lot of traffic. After all, when gates are put into place for larger premises or complexes, it can be challenging to control who comes in or out. The intercom has made this process much simpler, but what do you do if the system fails to work? Why, you call our skilled experts, of course. Our technicians will come and troubleshoot your intercom and conduct any necessary repairs. If replacing the unit is required, you can trust that our wide range of products is bound to provide a model that will suit all your needs.
Gate Opener Repair
The gate opener is a key part of your automatic system and when it isn't working, it can prevent employees or customers from entering or leaving. Our experts will come to you and thoroughly inspect your gate's electric motor unit before any repair work is carried out. Count on us to be able to fix anything from broken gears to circuitry issues.
Our Experts Are Available Every Day
If the gate to your business just got stuck or keeps moving erratically, give our team here at Gate Repair Ramona a call and our experts will come and fix things. Whether it's Friday, Wednesday or Sunday, you can count on our assistance.