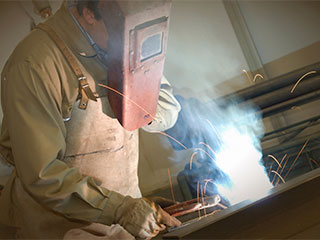 A driveway gate that won't close is a security risk and a serious problem. One that won't open, much more so. Luckily, our team offers professional, inexpensive gate repair services to Ramona locals and ones residing in the nearby areas. Our technicians are experienced with the parts of every major manufacturer, and can handle anything your system throws at them.
Common Failure Points
It's an unfortunate truism that the more advanced a system is, the more things there are that can go wrong with it. Any automatic gate mechanism is vulnerable to either rust, warping, and impact damage, or all three. Because system's motor unit relies on electricity, it is also liable to experience things like power failures and circuit board and wiring issues. The remote control can also have reception or software issues, as can the intercom system, any cameras you may have, and any number of other features a modern electric gate opener might have.
Professional Repair And Maintenance
Whether the problem is mechanical, electrical, or software related, our team has been working with automatic gates of all styles and manufacturers for years, and will have seen and fixed your issue before. Most problems can be solved with some simple realignment, rewiring, and adjustment, but for more severe damage our technicians will get out the gate welding repair kit, or provide high quality replacement parts and install them in place of the old ones.
Replacement Parts Available
Our team maintains a large inventory of brand name parts from a variety of trusted manufacturers. If any of the different components needs replacement, or you want to install a new intercom or even a new electric opener, our team has got you covered. Our experts will be happy to advise you on the products that best fit your needs and price range, and carry out the required installation work.
Complete Gate Maintenance
Whenever our technicians finish a repair job, they run a full gauntlet of tests to make sure that everything from the tracks or hinges to the remote control and safety sensors are all working properly. Sometimes, problems can creep up on you before causing visible damage; with our professional maintenance service, our experts can catch minor issues you may not have noticed and resolve them before they cause trouble.
Our Team Is Here To Help
You can count on us to provide a solution to any problem your system may encounter. Get in touch with our team at Gate Repair Ramona as soon as you notice something's wrong and let our experts take care of the issue quickly and effectively.
Count on us for:

All-O-Matic Opener

Rotten Gate Repair

Phone Entry Systems

Sliding Gate Safety Sensors